John McCullough II & III – Bible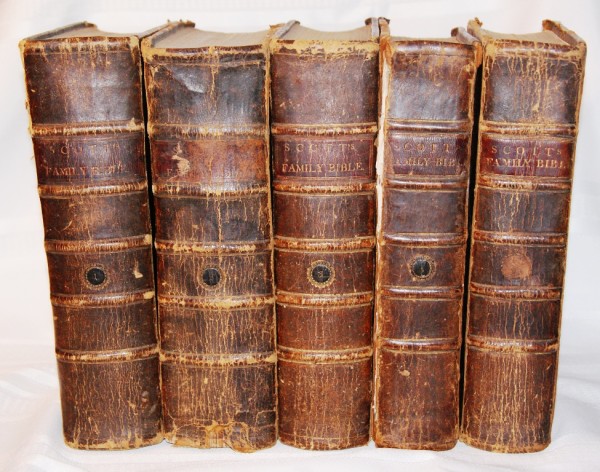 This five volume Bible set was owned by John McCullough II and John McCullough III. They were the son and grandson of John McCullough I, the famous Indian Captive. John McCullough I was the son of James McCullough, the brother of Archibald McCullough who immigrated to America in about 1740. Archibald was the great-great-great-grandfather of William Edgar McCulloh. John McCullough II is William's 2nd cousin 3x removed and John McCullough III is William's 3rd cousin 2x removed.
The 5th volume of the Bible includes the signature statement "John McCullough Book" on the front and rear end-papers. Other names appear on the end-papers pf the first four volumes, the most prevalent signature is that of Nancy Withrow which appears in most of the other volumes. Nancy became the wife of John McCullough II on December 24, 1828 in the Upper West Conococheague Presbyterian Church.
The Bible contained many newspaper clippings, letters pamphlets, poems and other ephemera including an extensive Withrow family genealogy and a small slip of paper stating the Bible set was the property of Elders John McCulloh II & III and was then the property of Nan McCullough Krebs. The final pages of volume five also include three family records pages. (For larger image views click the image.)