Posted
December 8, 2015 by Rodney McCulloh
in History
The Scalping of Archie McCullough: The True Story of the Sole Survivor of the Enoch Brown Massacre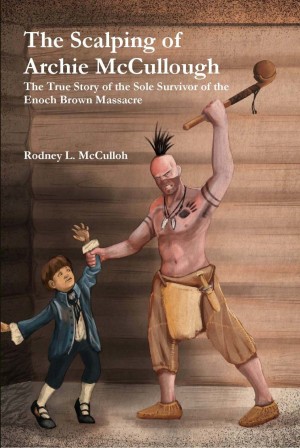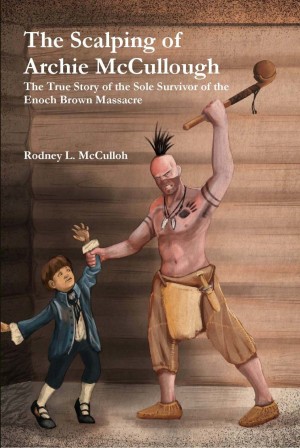 On July 26, 1764, an event occurred on the Pennsylvania frontier so shocking that it has been vividly remembered and retold for over 250 years. Eleven children gathered in a lonely log school house that warm summer morning. By noon they lay weltering in their own blood, scalped and dead or dying. And yet, one of the students, ten year old Archie McCullough, survived. He left no first hand accounts but by drawing on original sources, contemporary accounts and the work of others Mr. McCulloh brings this story to life in a unique way. In the lead chapter the attack is told from Archie's perspective in a full, dramatic narrative. The known facts have been wrapped in imagined thoughts, actions and dialog to present the story as never before told. Also included is a factual, historical account of the story as well as a selection of the earliest reports from long out-of-print sources.
The book is available in three versions (paperback, hardback in dustjacket "Genealogy Edition" and hardback in dustjacket "Family Edition.") Only the Family Edition comes with color frontispiece illustration, color map and color photos, the other versions are all black & white. Also, of special interest to descendants of James or Archibald McCullough of Franklin County, PA, both hardback versions include an additional appendix explaining our branch of the McCulloh's relationship to Archie.
You can find more details and ordering information here.